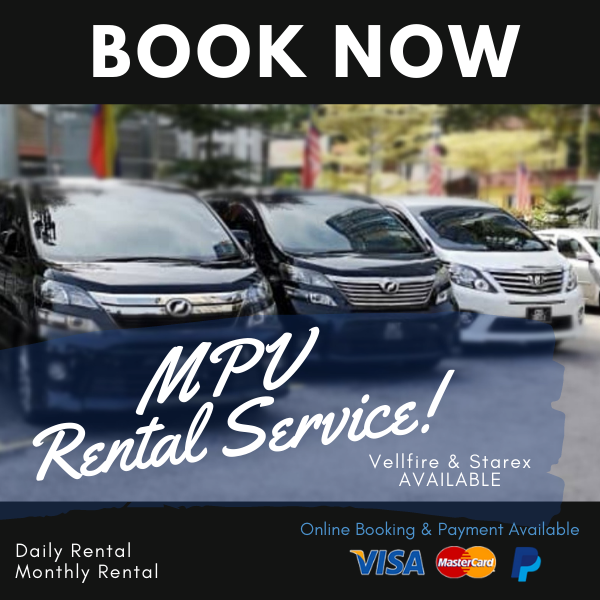 We would like to hear your feedback while you're with our service. Give us a message if you need special service. Let us know!
All chauffeur booking have to be made in advance. what is the minimum time possible to secure a booking?
Generally speaking 24 hours is required. However, we may be able to supply a car at shorter notice of about 6 hours. We appreciated that most people will use us for special occasions or where impressions count in which case they would have known about such occasion well in advance. Having said all this, we encourage you to call first. We're here to help.
what types of chauffeur kl fleet do you run?
Our fleet were luxury MPV with chauffeur service in Kuala Lumpur. We provides Toyota Vellfire, Toyota Alphard, Hyundai Starex and Mercedes Benz as our main fleet. The aim here is to provide the best fleet and best service for our clients. We can also supply Toyota Innova, van (10 and 18 seaters) and bus (44 seaters) if needed so again our aim is to provide the best for our customers.
EXplain what you mean by the chauffeur guaranteed service?
Your cars are never late, your car is always clean, your chauffeurs are always presentable and very knowledgeable.
do i have to pay in advance before pick up?
No, you don't. Just pay when you arrive at your destination.
what about pets. are they allowed in your cars?
Sadly to say that NO pets are allowed in any of our cars for health and safety reasons. Smoking in our cars are strictly prohibited. Our chauffeurs would gladly wait for you to finish your consumables before boarding.
can i pay with credit or debit card ?
Sure. just swipe your card at your drop off location before you leave the fleet.
what is your cancellation policy?
Cancellation has to be made at least 3 hours before the booking. Once job been allocated, full charge will apply.
B7-05-06, Block 7,
1120 Park Avenue,
Taman Petaling Utama,
46100 Petaling Jaya, SELANGOR.
Captain Chauffeur Services (SA0519569-H)
Swift For Oversea Transaction : CIBBMYKL
Bank Name : CIMB Bank
Bank Branch : Kinrara
Bank Address : No 17A, Jalan TK 1/11A, Plaza Kinrara, Section 1, Batu 7 1/2, Jalan Puchong, 47100 Puchong, SELANGOR.
Current Acc Bank No : 8603 6906 49